Rancho Cucamonga Child Custody Lawyer
Child custody cases are inherently emotional issues, and it's likely that your child custody case will be one of the most challenging experiences of your life. Approaching this situation with clarity and confidence can be difficult without the right legal team on your side. A Rancho Cucamonga child custody attorney is an invaluable asset whether you're divorcing your co-parent or need to establish a custody order as an unmarried parent.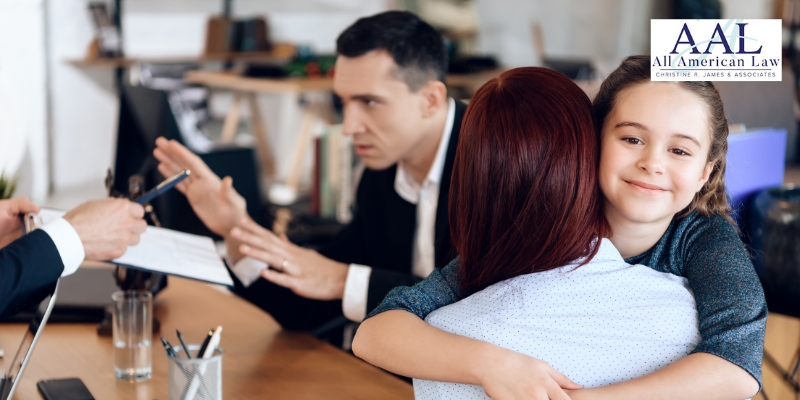 Legal Representation for Rancho Cucamonga Child Custody Disputes
All American Law offers compassionate and client-focused legal representation for California child custody disputes. We understand that the outcome of your case is likely to influence your life and your relationship with your child for years to come. It's natural to have doubts about this situation. As your Rancho Cucamonga child custody lawyers, our goal is to help you obtain a custody order that serves your child's best interests.
Why Do I Need a Rancho Cucamonga Child Custody Attorney?
Child custody determinations are often components of larger divorce cases, but it's possible for unmarried parents to need legally enforceable custody orders as well. If you are an unmarried parent and you and your co-parent have decided not to raise your child together, you must have a child custody order in place that ensures the child's best interests are served. If you are divorcing your co-parent, the child custody determination is likely to be the most challenging and emotionally stressful aspect of the overall divorce case.
Regardless of how strong a custody case you believe you can make on your own, it is always best to approach a child custody determination with legal representation on your side. The right attorney will make a tremendous positive impact on the outcome of your case. They can assist you in gathering any documentation you must submit to the court, prepare you for each stage of your proceedings, and help you make more informed decisions about the direction of your case. Additionally, they can speak on your behalf during a court case at a time when you may want to respond emotionally to claims made by your ex-spouse. It is crucial to act as professionally and responsibly as possible when in front of a judge, and a lawyer can help you maintain composure during that difficult time.
The Rancho Cucamonga child custody lawyers at All American Law have more than 30 years of combined experience in a wide range of family law cases, including those pertaining to child custody. We understand that it can be challenging to remain objective about your legal proceedings when facing an emotional issue like child custody. Our goal is to help you approach the situation with understanding and clarity. We can not only help you obtain a better outcome to your custody determination, but we can also potentially streamline your proceedings and help you complete the determination process much faster than you may have anticipated.
How Is Custody Determined in California?
California state law requires all custody determinations to pass through formal legal review in the family court system. Whether you are divorcing your spouse or are unmarried in a child custody determination, the judge handling your case will have the final say when it comes to your custody rights. To make their decision, the family court judge must evaluate various forms of evidence and determine what type of custody agreement would best serve the interests of the children their decision will affect. Some of the factors the judge in your case must review include:
Your income and your co-parent's income.
Both parents' relationships with their children.
The work schedules and general availability of both parents.
Both parents' criminal histories.
The living arrangements of both parents.
Each parent's proximity to the child's school, medical providers, and extended family.
Each parent's willingness to cooperate during the custody determination process.
The child's unique medical, social, and behavioral needs.
After reviewing all necessary variables, the judge will deliver their ruling, and both parents are expected to abide by the terms of their custody agreement.
What Does Child Custody Entail?
There are two primary forms of custody the judge in your case will decide: legal custody, which applies to the ability to make decisions for a child, and physical custody, which applies to where the children spend their time. In most custody cases, both parents will obtain some level of legal custody and must collaborate going forward regarding any significant decisions they need to make for their child. When it comes to physical custody, the judge will decide this based on each parent's work schedule, availability to address their children's daily needs, and both parents' living arrangements.
If the judge handling custody determines there is evidence that a parent poses a direct threat to their child's safety, they are unlikely to obtain any custody rights. They may only receive limited visitation rights, or they could be entirely prohibited from contacting the child. Most child custody determinations in California involve some level of joint custody, but one parent is likely to obtain greater physical custody than the other.
Child support determinations typically unfold in tandem with child custody. When the judge determines custody rights for parents, they must also ensure the children have adequate financial support from both parents for their everyday needs. One parent will pay child support to the other, and the amount paid typically hinges on the difference in income between the parents and the overall cost of the child's basic living needs.
Can I Change a Custody Order?
The California family court system recognizes the fact that life can be unpredictable. A parent with a custody and support order could encounter unexpected issues that demand the court's attention. The family law system upholds a modification system that allows parents to request changes to standing family court orders. If you have a child custody order in Rancho Cucamonga and something happens that materially affects the terms of the order, you have the right to petition for a change in response to this event. Situations that could result in modification of a child custody order include:
A significant change in the child's needs
Abuse of the child by one of the parents
A change in the financial, work, or living situation of one of the parents
A change in the work schedule of one of the parents
Relocation of one of the parents
A parent demonstrating irresponsible parenting (e.g., alcohol abuse, failing to get the child to school, etc.)
The modification process is relatively straightforward, but it's still best to work with an experienced Rancho Cucamonga child custody attorney when you need to request a change to your custody agreement. You must petition the court for your desired change and explain the reasoning for the requested modification. Once the court receives your petition, a hearing is set, and both parents have the right to speak on the issue. If approved, the change to your custody order can be implemented immediately.
FAQs About Rancho Cucamonga, CA Child Custody Law
What's the cost of a child custody lawyer?
The cost of a child custody lawyer depends on the pricing structure of the attorney, their experience, and the complexity of the case. On average, a California child custody lawyer will cost between $300-$500 per hour, but some attorneys charge a flat fee instead, which could range from $3,000-$20,000 or higher. Getting a free consultation from the team at All American Law is a good first step to determining the legal needs of your situation.
How is custody determined?
Custody arrangements are ordered by a judge with the child's best interest in mind. This means the health, safety, and welfare of the children are most important. Determining the best interest of the child requires the judge to consider a variety of factors, including a child's age and health, as well as their emotional ties to each parent. The ability of each parent to care for their child and any history of any type of abuse by either parent are also taken into consideration when determining the custody arrangement.
How do you win a child custody case in California?
California law is based on the belief that children benefit from contact with both parents, so sole custody is not often granted unless it is in the best interest of the child. A judge will want to understand your involvement in the child's life, so being involved in their education, extracurriculars, and being a responsible and collaborative co-parent are all important things to demonstrate to a judge. Having legal representation so you can keep a professional appearance in court is also crucial to getting the outcome you desire in a custody case.
Who pays for child support after a divorce in California?
A judge determines child support payments by looking at two key factors to determine how much money is appropriate for support payments: the total income of each parent and how much time the child will be spending with each parent. These factors help the judge determine the amount of the support payments and which co-parent will pay the support. For example, if you are only with your child two weekends a month, but your income is substantially higher than your co-parent's income, a judge will likely have you pay your ex-spouse to help with child-rearing expenses they have to pay when they are caring for the child the rest of the month.
Work With an Experienced Child Custody Lawyer You Can Trust
Ultimately, there are countless issues a parent may face when it comes to a Rancho Cucamonga child custody determination. Whether you're divorcing and need to settle custody of your children or require a custody order as an unmarried parent, a Rancho Cucamonga child custody attorney is the best asset you can have in these situations. All American Law is ready to provide the representation you need no matter what your unique case entails. If you are ready to discuss your custody case with a Rancho Cucamonga child custody attorney, contact us today and schedule a consultation with our team.