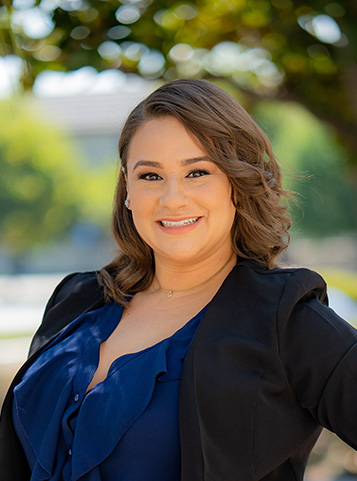 Julia Mariscal
Paralegal
With All American Law
In Law Sector
Education
California State University, San Bernardino

Bachelors in Criminal Justice

Sage College

Bachelors in Paralegal Studies
Professional Associations
Member of NALA, The Paralegal Association

IPE-Institute for Paralegal Education

Certificate for Divorce Cases from Start to Finish for Paralegals
Past Employment Positions
Since graduation from High School, law was always her main career goal. She graduated with honors and attended California State University, San Bernardino and pursued her degree in Criminal Justice.
While attending CSUSB, she worked as a Student Professional Working for the Los Angeles District Attorney's Office with a blind District Attorney, Philip Wodjak, D.D.A. She assisted Mr. Wodjak with upcoming Criminal Trials, Voir Dire (jury selection), legal research, and assisted him in attending his normal calendared hearings across the County of Los Angeles.
Having this opportunity lead her back to school to pursue her education in Paralegal Studies. During her education for Paralegal Studies, she volunteered with the San Bernardino County Child Support Division for approximately one year.
After graduation, she obtained her first position with a private law firm that represented First Responders and worked directly with the Legal Defense Fund (LDF) and California Correctional Supervisor's Organization (CCSO). This firm originally practiced only Civil, Criminal and Administrative Law, but she was able to assist this firm with establishing Family Law as a part of their normal practice.
What Attracts Her to the Law, Specifically Family Law?
Coming from a large family, she knew that Family Law was the type of law that she wanted to pursue and become well-rounded and more knowledgeable in. She pursued a position with a local firm which handled Family Law and became the Lead Paralegal, managing a staff of six others.
Top Reason to Work at All American Law
Her goal is to continue to learn from others, as each case that she places in her hands is different from the rest. Working at All American Law has taught her that and many other valuable experiences. The staff at All American Law works side by side making each case a priority. From the thirteen years of experience, it is important to keep learning from your counterparts as the law changes constantly.